After taking a long break on new game approvals in 2021, which had led to a huge impact on its mobile market, China has granted licenses to 88 new games in June. 86% of these gaming titles are designed for mobile apps. The approvals are seen as crucial due to China's mobile gaming industry having been dealing with regulatory changes that have caused market fluctuations in the past few years. 
China's gaming scene has long been dominated by mobile gaming, attracting significant attention. With major developers like Tencent originating from China, the country plays a crucial role in the global gaming industry.
In July, 88 new games were granted licenses, a positive sign of the market's recovery. Although Tencent and NetEase were absent from this list, the reintroduction of approvals shows a commitment to rejuvenating the gaming sector and easing previous restrictions.
4399, Glacier Network, and Xishanju are a few noteworthy studios that have been able to get a license.
Known for its profitability in releasing new gaming apps, mobile gaming remains the top platform in the country's gaming industry. This is further evident from the recent approvals, where an impressive 97.7% of the newly granted licenses are dedicated to mobile titles.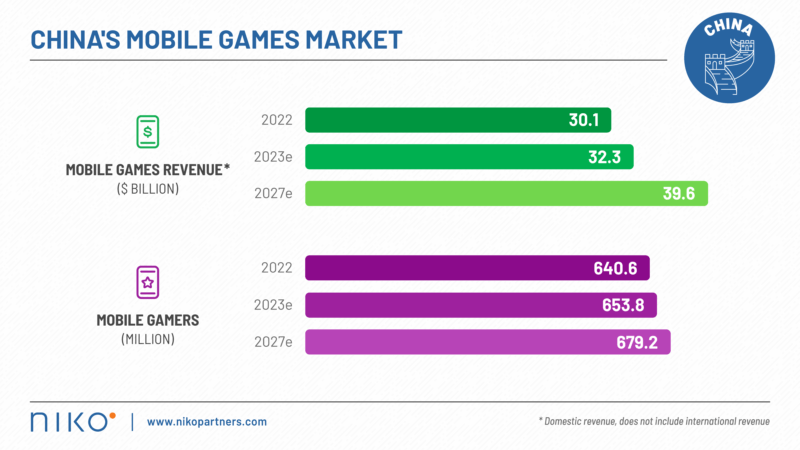 To tackle gaming addiction among young players, China imposed strict playtime restrictions. This caused challenges for top developers like Tencent, leading to financial setbacks and s change in rankings. The industry faces further disruptions with NetEase's partnership issues with Blizzard. However, experts see a potential turnaround in 2023 after a downturn in October 2022. 
China's game base reached a record 668 million individuals in the first half of 2023, with half of the nation engaging in gaming, according to the China Audio-video and Digital Publishing Association. However, with it being 114.3 billion yuan ($20 billion), gaming revenues saw a slight decline of 2.39% compared to the previous year, indicating a slow financial recovery. Despite this, Q2 revenues displayed a positive trend with 22% growth from the previous quarter, suggesting a promising revival expected to continue in the second half of the year.