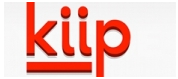 Kiip is an in-app mobile advertising platform, allowing advertisers to give their audiences rewards for virtual achievements. It was founded by Brian Wong, Courtney Guertin and Amadeus Demarzi in 2010.
Kiips aims at replacing ordinary mobile advertisements with rewards so that users can earn something instead of just seeing an ad, when they use an app.
Kiip uses ''moments'' with the purpose of creating meaningful interactions with customers and generate the right custom audiences.