Google began rolling out its data safety section in the Play Store last April, which replaced the app permissions lists nearly two months after that. The tech giant now requires developers to display how they use data so that Android users can get a better understanding of what they share with them, however, most of these data safety labels are either false or misleading, according to a new research from Mozilla.
The company said in a blog post on Thursday that it analyzed the top 20 premium and top 20 free apps on the Play Store, among which are also Google's own apps such as YouTube and Google Chrome.
Mozilla found that nearly 80% of the apps that it examined had discrepancies between their data safety labels and privacy policies. Out of all the apps, 16 had major discrepancies, 15 had some discrepancies, while only 6 had just a few.
To give an example, one of the apps Mozilla thinks that needs improvement is the popular short video platform TikTok. According to the report, TikTok says in its labels that it doesn't share user data with third parties. Its privacy policy, on the other hand, says the vice versa.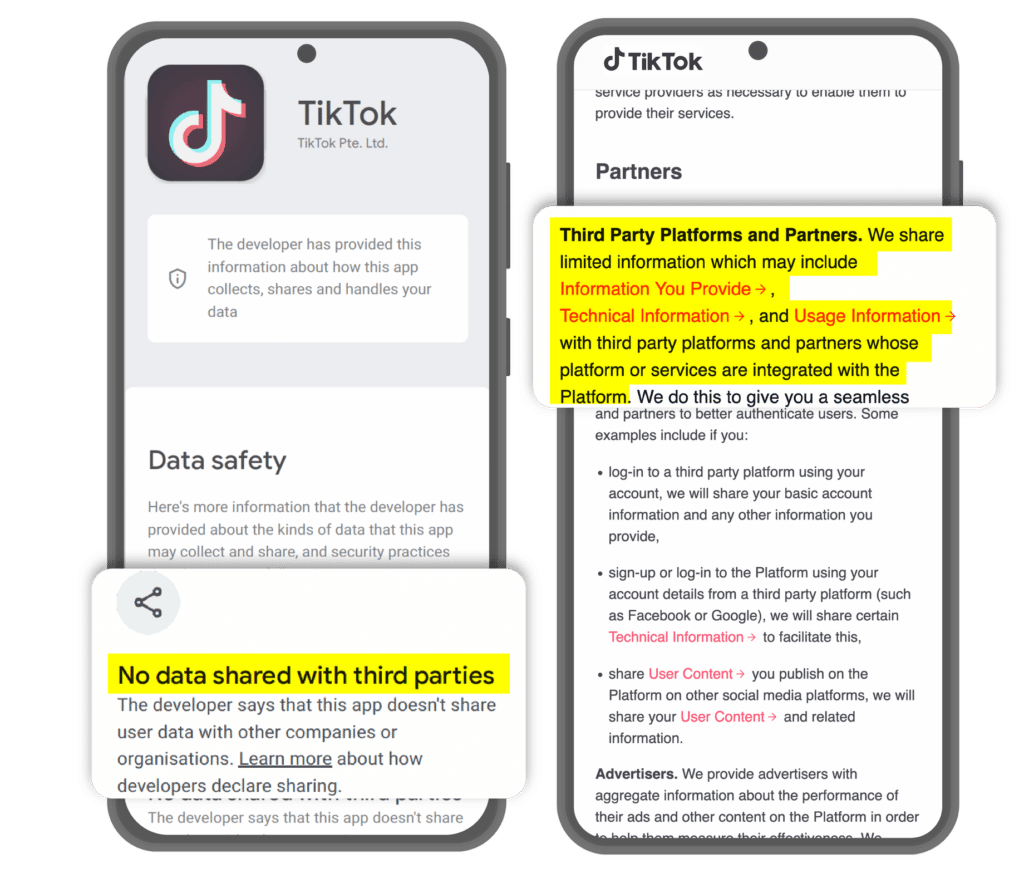 Here are the top 20 free apps included in the research along with their grades.
Grading Table for Top 20 Free Apps
And here are the top 20 paid apps analyzed and graded by Mozilla.
Grading Table for Top 20 Paid Apps
| | | | |
| --- | --- | --- | --- |
| Poor | Needs Improvement | OK | Not Graded |
| Minecraft | Shadow of Death: Dark Night | Stickman Legends Offline Games | League of Stickman Acti |
| Hitman Sniper | Bloons TD 6 | Power Amp Full Version Unlocker | Terraria |
| Geometry Dash | The Room | League of Stickman: 2020 Ninja | – |
| Evertale | Modern Combat 4: Zero Hour | – | – |
| True Skate | Monument Valley | – | – |
| Live or Die: Survival Pro | – | – | – |
| Grand Theft Auto: San Andreas | – | – | – |
| The Room Two | – | – | – |
| Need for Speed: Most Wanted | – | – | – |
| Nova Launcher Prime | – | – | – |
Source: Mozilla
"Consumers care about privacy and want to make smart decisions when they download apps,'' said Mozilla's Project Lead Jen Caltrider. ''Google's Data Safety labels are supposed to help them do that. Unfortunately, they don't. Instead, I'm worried they do more harm than good. When I see Data Safety labels stating that apps like Twitter or TikTok don't share data with third parties it makes me angry because it is completely untrue. Of course, Twitter and TikTok share data with third parties. Consumers deserve better. Google must do better."
Following Mozilla's report, a Google spokesperson said: "This report conflates company-wide privacy policies that are meant to cover a variety of products and services with individual Data safety labels, which inform users about the data that a specific app collects. The arbitrary grades Mozilla Foundation assigned to apps are not a helpful measure of the safety or accuracy of labels given the flawed methodology and lack of substantiating information."
Apple's app privacy labels also came under fire by the Washington Post in 2021 for not being completely accurate.