With 229 million monetizable DAUs as of Q1 2022, Twitter is arguably one of the most popular social media platforms in the world. Although the company has added new features that users demand over time, third-party apps may still be necessary to enhance the in-app experience. In this article, we have brought together the best Twitter apps for Android and iPhone that offer useful features especially for the popular social media app's active users.
The Best Twitter Apps
Here are the best Twitter apps for a better Twitter experience…
UberSocial for Twitter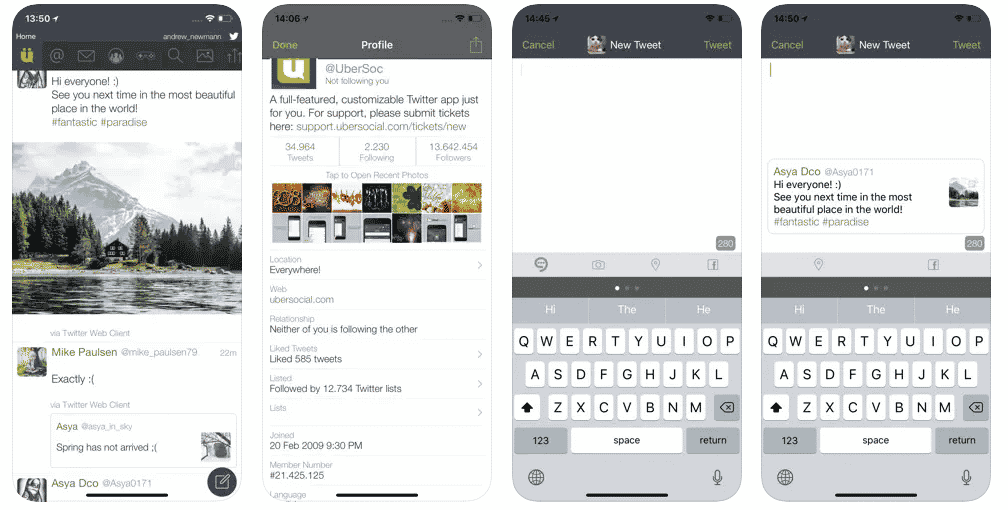 Shown among the best Twitter apps, UberSocial stands out with its advanced customization options. In addition to menu, theme, and timeline customization options, the popular app also includes features such as multiple account support, Facebook cross-posting, muting posts and playing YouTube videos on your timeline.
Talon for Twitter
Offering an ad-free Twitter experience, Talon only supports 2 accounts. In the app where you can follow the threads and see the replies to the tweets, you can also play GIFs and videos without leaving your timeline, search for GIFs from Giphy, see the timeline, mentions and unread counts from your homepage using its widgets.
Talon for Twitter on Google Play
Albatross for Twitter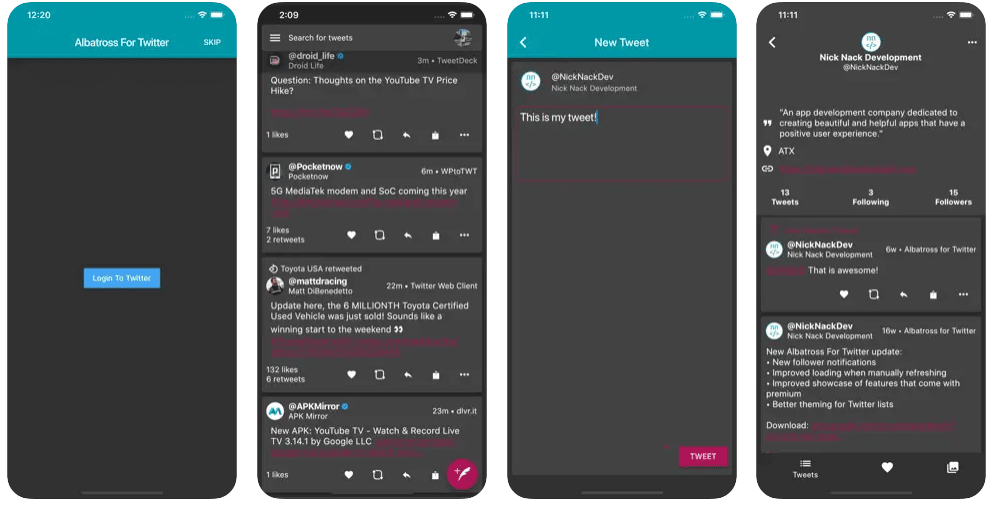 Including many features you need, including notification type editing, an ad-free experience, chronological ordering, list support, and theme options, Albatross also supports all different media formats that Twitter uses.
Albatross for Twitter on Google Play
Albatross for Twitter on the App Store
Plume for Twitter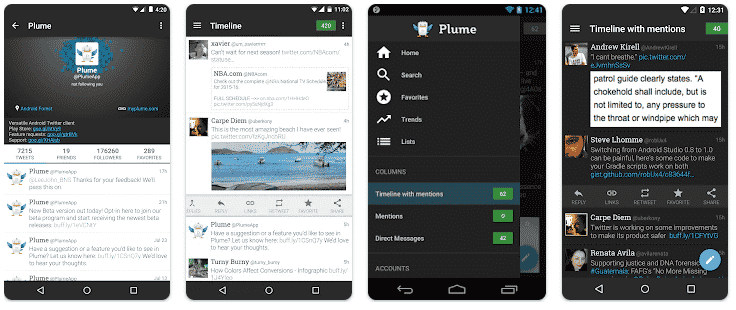 Plume, another Twitter app from the developers of UberSocial, is only available on Google Play. Some of the features Plume offers are multiple Twitter account support, lock screen widget, cross-sharing on Facebook, in-app live streaming, internal browser, bit.ly support, inline Twitter conversation, and Tweet reply and profile display. 
Plume for Twitter on Google Play
Hootsuite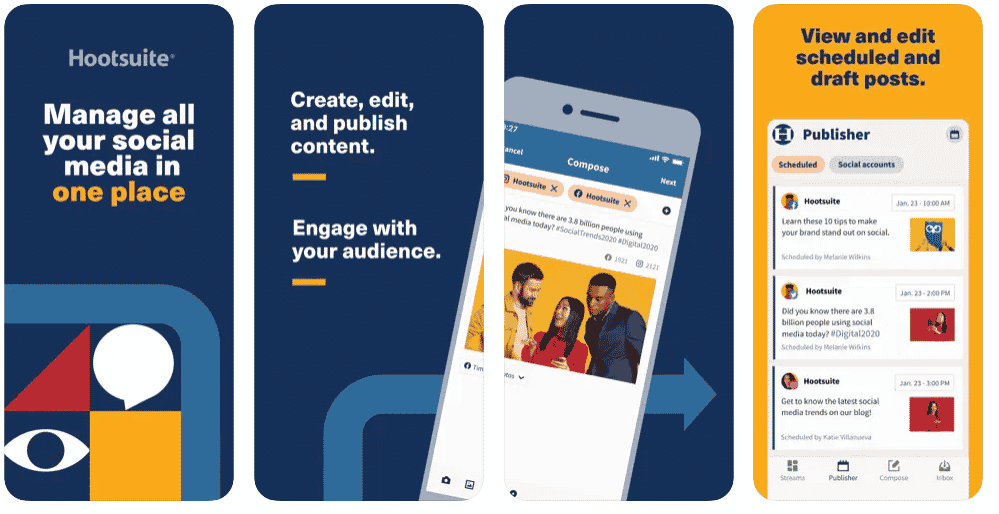 The app Hootsuite, which allows you to schedule and share the content you want to share on social media platforms, is one of the best Twitter apps, especially for those who want to share regularly on Twitter. The app also allows you to create scroll-stopping content, monitor activity, and mentions, and manage comments and messages.
Owly for Twitter
Offering features such as configurable tweet digest, theme customization, and advanced tweet management, Owly can watch tweets you don't like, filter tweets based on your interests, and allows you to preview specific users and media attachments (photos, videos, GIFs) on the go by pressing and holding on them.
Owly for Twitter on Google Play
Friendly for Twitter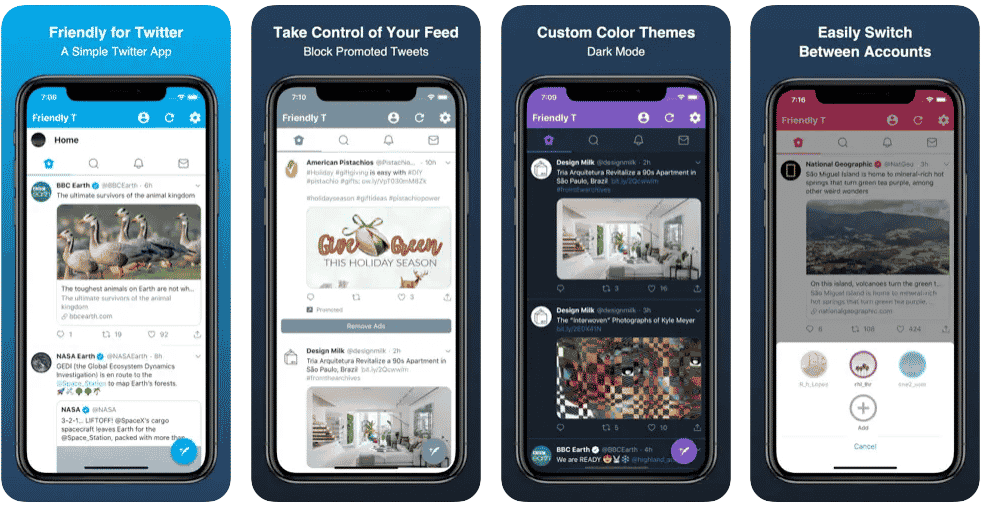 Allowing users to download Twitter videos, GIF, and pictures to your device, Friendly T is one of the best Twitter apps for those looking for a faster and battery saving Twitter experience. The app also blocks all sponsored tweets so that you can have ad-free experience.
Friendly for Twitter on the App Store
Friendly for Twitter on Google Play
Twitterrific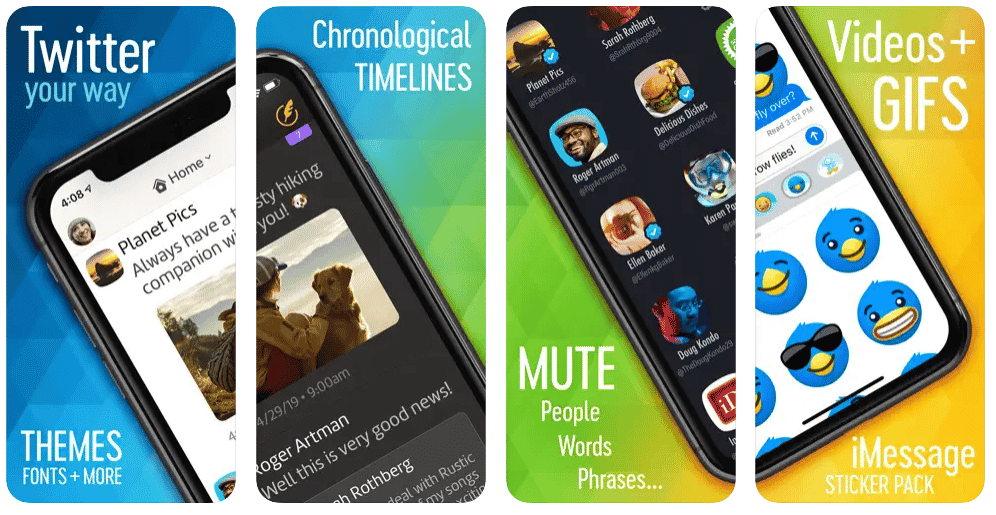 Only available on the App Store, Twitterific offers features including chronological timeline, theme options, device synchronization, hiding and mute people, words, and phrases, VoiceOver support, list management, and external keyboard support. The app also allows you to browse Twitter free from the clutter of promoted tweets and second-guessing algorithms.