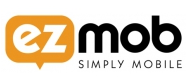 EZmob is a self serve advertising platform which focuses on bringing premium publishers and high-quality mobile campaigns together.
As well as offering many ad formats such as text ads, banner ads and mobile popups, EZmob also offers the highest converting mobile ad units, which usually tend to provide 20 times better click-through rates and increased conversion rates on the same amount of traffic.
EZmob also aims to help developers earn more revenues with their effective monetization solutions.